What payments are accepted?

We accept debit cards, credit cards, ETN, AnyTask.com Gift Cards & Other Cryptos as forms of payment.

Paying with Debit or Credit Card
Paying with a Gift Card
Is my money safe?
Paying with ETN
Paying with other Cryptocurrencies

Paying with a Debit or Credit Card?

All debit and credit card payments are processed by Stripe, one of the most widely used payment platforms in the world.

Once payments are processed, the AnyTask™ Platform sends the Buyer's payment to a third-party payment handler for the conversion of your payment from US dollars into ETN.

You will have no interaction with cryptocurrency throughout this process and AnyTask Ltd does not handle any form of cryptocurrency, including ETN.

Upon acceptance of the Seller's work by you, the payment in ETN is sent directly to the Seller by the third-party payment handler. You should never pay a Seller outside of the AnyTask™ Platform.

Paying with an AnyTask.com Gift Card

If you have received an AnyTask.com Gift Card, you can use this to purchase Tasks on the AnyTask™ Platform. The Gift Card will need to cover the full value of the Task and cannot be used as a part-payment.

All Gift Cards have an activation date, or use-by-date, which requires you to buy a Task with the Gift Card by this given date. This will then allocate the remaining balance to your account and can be used at any point until the expiry date.

Each Gift Card is unique and can only be used by one user.

Visit How do I use a Gift Card? for more on using Gift Cards.

Is my money safe?

Yes. When you purchase a Task, the money is held by a third-party who will not release the funds until you are satisfied and have accepted the Task as delivered. If, at any point, you are unsatisfied with what the Seller has provided, you can raise a dispute. There is also a live 24/7 support chat to help you further – this can be found at the bottom of the AnyTask™ Platform.

How do I pay with ETN
As of 08/06/22, you'll be able to buy Tasks through the AnyTask™ Platform using ETN from your ETN Online Wallet.
1. Find the Task you want, and click 'Purchase'
2. Next you'll see the 'Order Preview' page. Once you've checked over the details and are happy with them, click 'Continue'
3. On this page, you'll be asked how you would like to pay. Click the ETN logo.
4. Once you've clicked this, a QR code will be generated for you; this will hold the price of the Task, including the Service Fee, for 15 minutes. Scan the QR code in the ETN App and complete the payment.
5. If you are unable to complete the payment in the 15 minute timeframe, a new code will be generated for you using an updated ETN value.
6. On a mobile? Don't worry, you can still pay using ETN. Just click on the link underneath the QR code to be taken to the ETN App to complete the transaction.

You will need to have an ETN balance to cover the cost of the Task, the service fee and the Blockchain fee. If you do not have the correct amount, payment will fail.
Other Cryptocurrencies
A new feature for Buyers to pay using other Cryptocurrency's like Bitcoin has been added to payment options!
To find this method of payment, please select "Other Cryptos" from the payment section of your order.
When selecting this method of payment, please follow the steps below.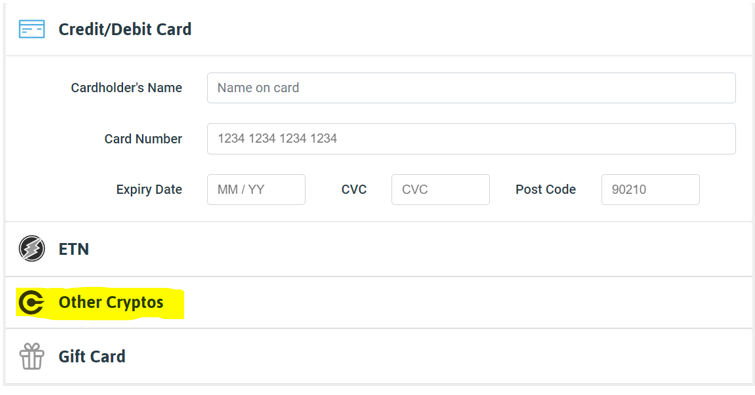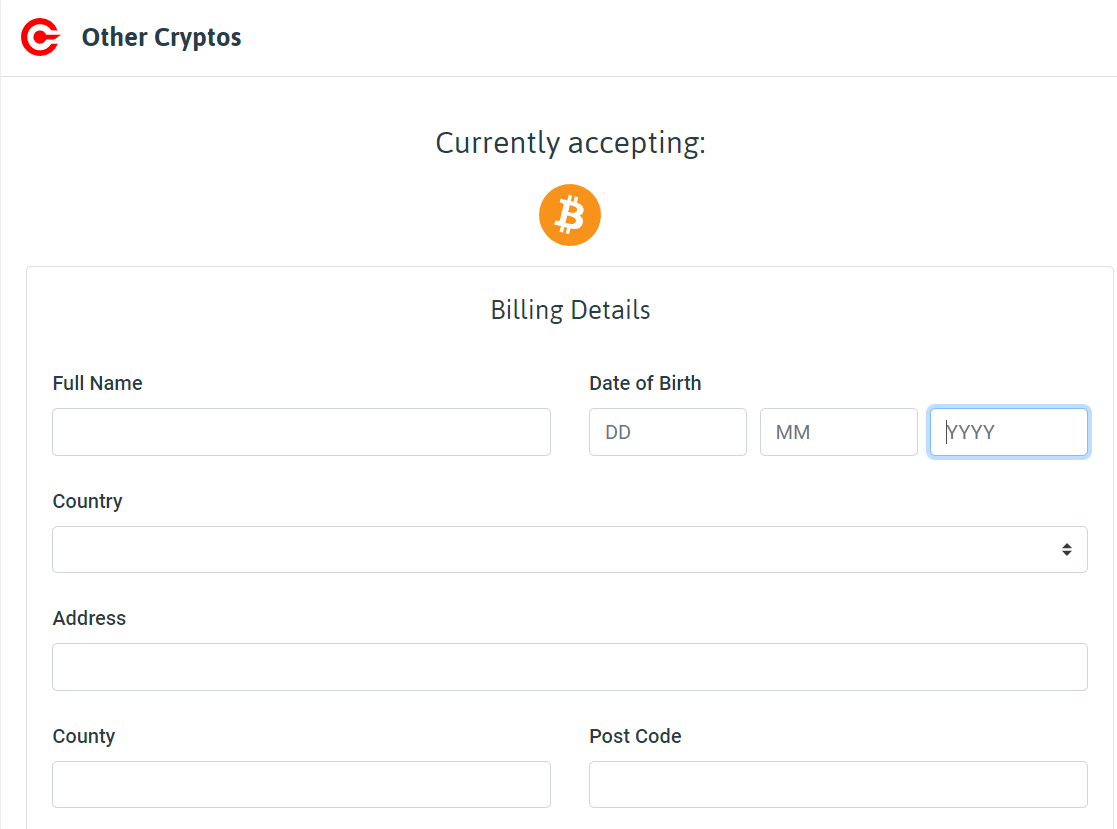 You will be shown the order summary page which includes the value of the selected cryptocurrency.
Once the payment details are confirmed by pressing Pay, please be aware that the payment process can take some time to complete as is reliant on the blockchain.
If you have any questions regarding this process, please do not hesitate to contact our Support Team via Live Chat on our website, or via a ticket using this link - https://anytask.zendesk.com/.
If this guide hasn't helped to resolve your issue, please contact our Support Team.